Willow shave or skeining tool
I have had some willow shaves or skeining tools made as they are difficult to get hold of and my wife needed one ! To vary the thickness of the shave the willow is pulled through nearer or further away from the end. They are mounted on hardwood oak blocks to make clamping to a table or workbench easy. The blade is easily removable for sharpening and cleaning. Overall size of the metal plate is 3″ by 8″ approximately with a blade length of 5″.
Unsolicited feedback from a recent customer, "Your shave is absolutely brilliant!"
£115 each plus post and pack if needed.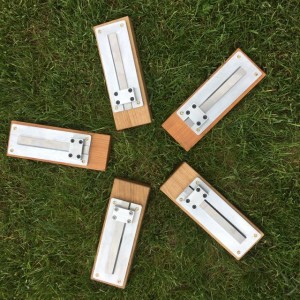 W
I am planning to make some more three way willow cleaves soon, contact for details.
Cane canoe seats
I have just completed caning a pair of Canadian canoe seats.