I have a changing selection of Vessels and Hollow forms for sale. If you are looking for something different try emailing me to see if I have anything new coming up. Postage varies with weight and size but starts from £2-95.
Burr Oak hollow form with a very rich burr grain pattern, there are also some bark inclusions.
£98
Scottish spalted beech hollow form with superb spalting pattern. I have three others in the same series, pictures to follow.
£258
Charred and textured Ash hollow forms, they have been charred and textured to give a tactile surface.
£ prices from 98
Laburnham hollow form, one of my favourite woods to work with. The tight grain gives a great surface and great colouring, this piece has some decay patterns which add interest and texture to the surface.
£98
Apple wood hollow forms, with a lot of interesting texture where the softer part of the wood has decayed and the worms, although long gone, have eaten through in a few places. The darker form has been scorched and then textured to give a subtle feel to the surface and the lighter piece finished with a smooth surface and a wax polish.
£198 for the pair but also available individually.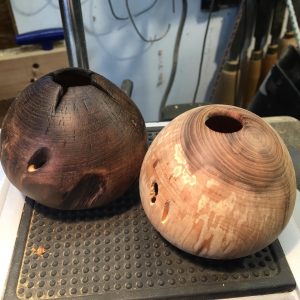 A close up view