Below are some books that I have either written or published, most are available from Amazon, specialist bookshops or directly from me.
Walking with Peter
This book was written to accompany an exhibition this year at the Craftco gallery, Southwold. "Walking with Peter" describes the walks I did with my father, Peter, along the Suffolk Coast which were the inspiration for this series of vessels. We would wild camp, often in the winter and became really familiar with the sometimes wild and desolate but beautiful coastline. The book, with illustrations from my father's sketchbooks.
 £7-50 including post.
Working with Living Willow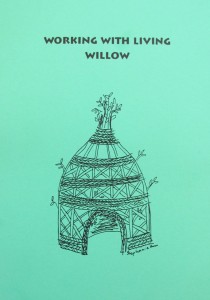 A short introductory booklet, available from myself or Amazon. £1.95
Living Willow Sculpture,  Jon Warnes
Still going strong, a book I wrote a few years ago. It covers a wide range of living willow projects. unfortunately out of print.
Making Traditional English Wooden Eating Spoons, Eric Rogers
A brief introduction to spoon carving, this is a booklet I publish for Eric and have just had it reprinted with some updates. As it says in the title, its focus is on English style spoons. Available on Amazon. £3.95