I am in the process of updating this page to show the range of work available from selected outlets and direct to commission.
I make a range of side and reading tables, some of which double up as stools. I also make benches and stools in a range of local woods and outdoor seating.
Britten bench, I was recently commissioned to make a pair of benches for the Red House, Aldeburgh. These have two legs which fit into cast iron supports which were originally used in agriculture. Made in local Chestnut and with a slight curve for sociability when sitting with a friend they are also available free standing with feet. Enquire for prices.
Suffolk Jolly with wheels, a low bench with a Chestnut slab top approximately 38 inches by 9 3/4 wide, with a butterfly repair. At one end are a pair of vintage cast iron wheels so you can wheel it around!
£398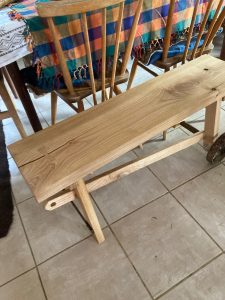 Suffolk Cobblers Table
This is the new Suffolk Cobbler's table inspired by my grandfathers work table from the 1920's and still in service as a side table for my mother! This photo doesn't do it justice, laden down with chopping boards at a recent exhibition. I like the raised edging to stop tools rolling onto the floor and the shallow drawer for odds and ends. Available to order in a range of woods and also at two thirds size as a bedside table. Prices from £345
Circular bench for Pakenham Watermill
I was really pleased to see this picture sent by a friend from a day out at Pakenham Watermill. This bench was one of my first commissions over 25 years ago and still going strong… obviously chestnut was a very good choice of timber. I remember putting it in place around a much larger tree.
Outdoor Oak benches
I make a range of outdoor oak benches, this pair was made for the centre piece of a Labyrinth in St. Andrews. They had extra long legs so they could be fixed securely into the ground. Prices start from £475 for a simple bench like this with an oiled finish. I am also working on a design with a simple curved back.
Pobble Side Tables
Elegant and lightweight side table, usually with Ash legs and thin Elm tops which I think makes a great combination and there are some wonderful grain patterns in good Elm. Finished in Danish oil and in slightly varying sizes. they do not nest but can partly over or underlap each other. From £178
Pobble Stool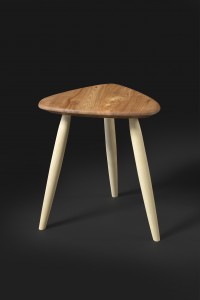 I have a new stool or side table which I designed after several visitors to Cornucopia requested a taller stool which could also be used as a side table. This one is in elm with ash legs but they are available in a range of woods and heights.  I usually have a few in stock and they can also be seen at Craftco in Southwold.  £178
Butterfly Bench
This is a new bench that I have been thinking about for quite awhile and finally got round to making. I wanted a lighter alternative to the Suffolk Jollies so the top is from two pieces of tapered Chestnut joined by a butterfly shaped cross piece at each end. The lightweight undercarriage is in Ash with the joints accentuated by brass screws. Also available in Ash or Oak and painted or stained. This one is approximately 52″ long and 11″ wide from £295 depending on size and wood.
Suffolk Jollies
In a range of sizes and heights and with round or octagonal tapered legs. They can be painted in a range of colours and just legs or sides as well or plain and paint yourself. I try to look for interesting planks for the tops and often include a large knot or very swirly grain to add interest. From £145 and in a range of sizes.
This is a Suffolk Jolly with a low curved back and red octagonal legs. The plank seat includes a natural waney edge at the front (sold).
Carved eating ware
I made these curvy cooking spatulas at the request of a woman who came on a spoon carving course. She brought one along as a pattern and needed another as it had nearly worn out ! These are made in local cherry. I also make a range of eating and serving spoons.
Rustic beds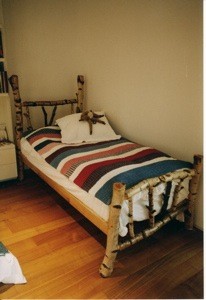 A couple of years ago I was commissioned to make a pair of beds. They were for twin boys and to be in a rustic, bark on, style. I was really pleased with the end result and they looked great on the newly laid cherry flooring. When I get time I make indoor and outdoor furniture to order, get in touch if you have a design you would like made.
Rustic chairs
Here is a small, child sized chair in hazel. It has round mortice and tenon joints for strength and a slatted seat. Chairs in this style can also come with woven or solid wood seats. Over the years I have taught lots of people how to make rustic furniture from round wood at various venues such as the Centre for Alternative Technology and West Dean College.
Adirondack Chair
This is an Adirondack style garden chair made in pine and given one coat of Osmo Oil translucent white. This is a natural finish and prolongs the life of the wood. Chairs are available to order in pine or larch and left natural or treated.
Here is a pair of Adirondack chairs I have just completed for an order. They are made in Larch with brass screws and can be treated with Danish oil or left untreated, they will weather to a silver grey colour and are durable outdoors. £195 each.
Crocodile bench in Elm with low relief carving, ideal for the garden or play area. You could paint him to enhance the features. £125 sold
Clay Bread Oven
I have made a number of clay bread ovens over the past years and always enjoy the contrast of working with clay compared with wood and willow. This one was made on a short course at Cambo Estate, Fife, by children and parents.