Log store
I have just completed an open fronted log store which measures 43 inches wide, 24 deep and 67 inches at its tallest. Now is the time to order your winter firewood and get them really dry ! Price £165
Outdoor oak benches
I make a range of outdoor oak benches, this pair was made for the centre piece of a Labyrinth in St. Andrews. They had extra long legs so they could be fixed securely into the ground. Prices start from £475 for a simple bench like this with an oiled finish.
Crocodile bench in Elm with low relief carving, ideal for the garden or play area. You could paint him to enhance the features. £125
I also have a heavy slab bench in oak with chunky blue legs. £135 Photo to follow shortly.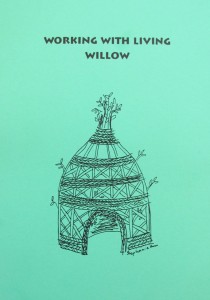 Working with Living Willow
A short introductory booklet, available from myself or Amazon.
Living Willow Sculpture,  Jon Warnes
Still going strong, a book I wrote a few years ago. It covers a wide range of living willow projects.
Available from Amazon
Making Traditional English Wooden Eating Spoons, Eric Rogers
A brief introduction to spoon carving, this is a booklet I publish for Eric and have just had it reprinted with some updates.