I was really pleased to see this picture sent by a friend from a day out at Pakenham Watermill. This bench was one of my first commissions 25 years ago and still going strong… obviously chestnut was a very good choice of timber. I remember putting it in place around a much larger tree.
This was a willow wind break that I designed and made to protect the Rodney Stone at Brodie Castle, Moray.  The coniferous woodland which protected the stone from the prevailing wind had been clear felled. A mixed woodland had been replanted but it would be some time before it offered any shelter. One face is carved with christian symbols and the other with Pictish depictions of mysterious beasts with a runic inscription around the edge. I wove this in a mix of local and Somerset willow and it was linked in with a schools project creating "Pictish" beasts in willow.
This fence was made on Gibraltor Island, in collaboration with Stephanie Bunn, who also designed it. Its purpose was to direct people over the fragile sand dune eco-system via a board walk through the central archway. It was  great working on an island with nearly no cars and mainly bicycles, yet only a short ferry ride from central Toronto.
This is the fence in the winter !
Several years ago I was in Bishkek, Central Asia to run some willow courses and work with students from the art school. We managed to source a small lorry load of willow, enough to run two courses and a sculpture project with the students, who were very keen. Here we are working on a large random weave structure.
I have made a number of clay bread ovens over the past years and always enjoy the contrast of working with clay compared with wood and willow. This one was made on a short course at Cambo Estate, Fife, by children and parents.
I made these curvy cooking spatulas at the request of a woman who came on a spoon carving course. She brought one along as a pattern and needed another as it had nearly worn out ! These are made in local cherry.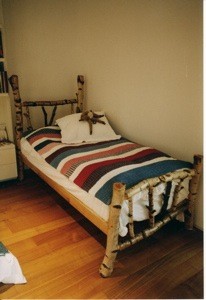 A couple of years ago I was commissioned to make a pair of beds. They were for twin boys and to be in a rustic, bark on, style. I was really pleased with the end result and they looked great on the newly laid cherry flooring. When I get time I make indoor and outdoor furniture to order, get in touch if you have a design you would like made.
Here is a small, child sized chair in hazel. It has mortice and tenon joints for strength and a slatted seat. Chairs in this tyle can also come with woven or solid wood seats.
This is an Adirondack style garden chair made in pine and given one coat of Osmo Oil translucent white. This is a natural finish and prolongs the life of the wood. Chairs are available to order in pine or larch and left natural or treated.
Here is a pair of Adirondack chairs I have just completed for an order. They are made in Larch with brass screws and can be treated with Danish oil or left untreated, they will weather to a silver grey colour and are durable outdoors. £195 each.
I am also experimenting with inserting coloured glass into the back slat of the seat to give a flash of contrasting colour. See the blog page for more details.